If you're in the market for a crossover SUV that combines style, comfort, and versatility, then the 2024 Kia Sportage deserves your attention. With its sleek exterior design, spacious interior, and a range of powertrain options, the Sportage is ready to elevate your driving experience. Take a closer look at what makes this crossover SUV an ideal choice in this 2024 Kia Sportage overview.
Overview of the 2024 Kia Sportage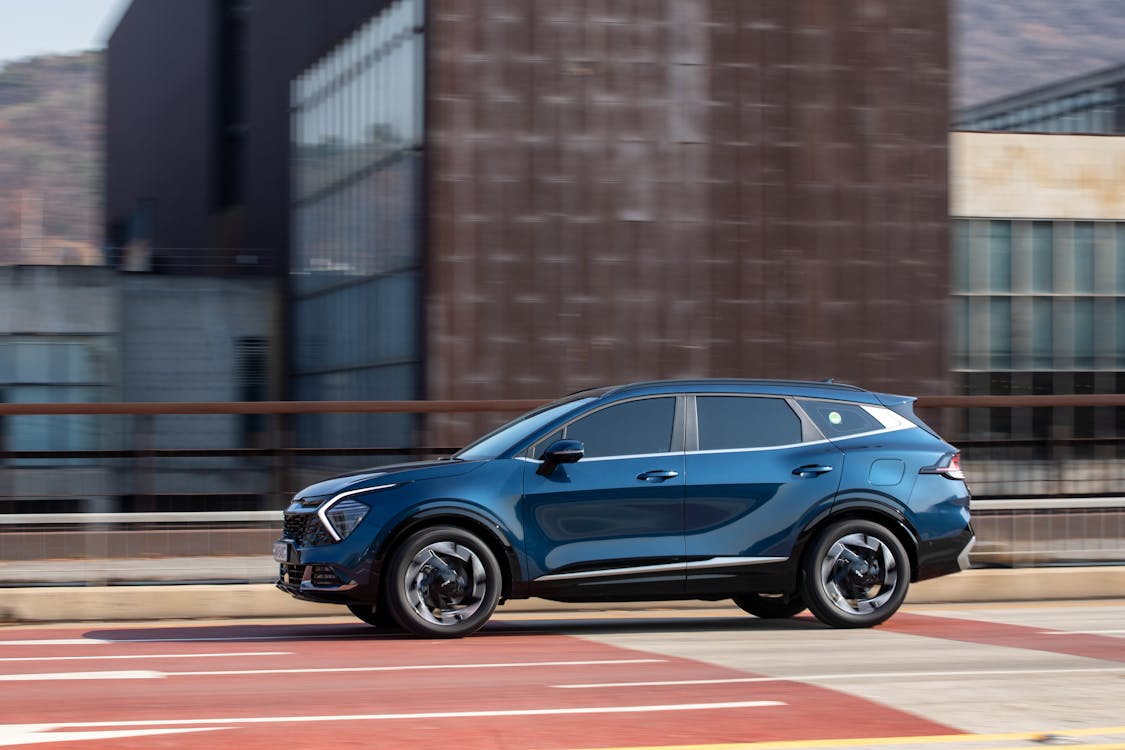 The Kia Sportage went through a complete redesign for the 2023 model year, and it carries over this style into the 2024 lineup. Kia is still equipping the Sportage gas variations with its 2.5-liter four-cylinder engine, and its new hybrid and plug-in hybrid variations are still in the plans for next year's lineup. Even though many of the Sportage's design, powertrain, and performance options remain the same, there are a few changes that enhance this crossover SUV, including bigger sizing for added cargo space.
For 2024, the Sportage offers the base LX trim, building on this with the EX, X-Line, SX, SX Prestige, X-Pro, and X-Pro Prestige trim levels. The LX, EX, SX, and SX Prestige trims come standard in front-wheel drive with the option to upgrade to all-wheel drive. The X-Line, X-Pro, and X-Pro Prestige all come standard with all-wheel drive.
Sleek Exterior Design
Carrying over from 2023 is the Sportage's updated, bold design. Kia gives the Sportage a unique and confident style with sculpted lines and dynamic contours. The signature Kia tiger-nose grille takes up the front between the LED daytime running lights, and the stylish LED headlights sit relatively low on the front, giving the Sportage a somewhat alien appearance. Kia also carries over the Sportage's sleek alloy wheels.
Also new in 2023 that's set to carry over to 2024 is the Sportage's stretched wheelbase, which means more space inside than in previous generations. This gives you an ample 41 inches of legroom in the back seats and around 39 cubic feet of cargo space.
Interior Comfort and Style
Kia steps up the interior design of its new vehicle inventory, blending convenience, style, and practicality to give you a truly comfortable driving experience. Kia's thoughtful cabin design uses only high-quality materials, and the dash and console layouts make everything easily accessible. Even without the range of seat adjustments in previous iterations, the 2024 Sportage seats offer generous support, making long drives more comfortable. The upper trims feature ventilated and heated seats, while the base trim still gives you the comfort and support you need while driving.
One of the enhancements for the 2024 model year is the Sportage's infotainment and convenience technology. The two 12.3-inch touch-screen displays feature new iconography for the digital gauge cluster and the infotainment screen, which gives you a full suite of driver convenience and connectivity features, such as Apple CarPlay, Android Auto, and Amazon Alexa.
Extra Cargo Space
One of the most notable changes for the 2024 Kia Sportage is the upgraded cargo capacity. The automaker ensures you have the space to load up your gear, whether it's sports equipment, camping supplies, or groceries. This spacious cargo area gives you room to pack everything you need for your journey. And when you need even more room, the rear seats conveniently fold down to create extra space for large items. Whether you're planning a road trip or simply tackling everyday tasks, the Sportage has you covered.
Gas and Hybrid Powertrain Options
When it comes to powertrain options, the 2024 Sportage offers flexibility to suit your preferences. Kia equips the fuel-powered variation with a 187-horsepower four-cylinder engine that connects to an eight-speed automatic transmission. The gas Sportage also comes with two drivetrain options: front- and all-wheel drive. The front-wheel drive Sportage gets an estimated fuel efficiency rating of 25 mpg in the city and 32 mpg on the highway, while the all-wheel drive gets about 23 mpg in the city and 28 mpg on the highway.
Kia's hybrid has a 1.6-liter four-cylinder gas engine that uses a 44.2 kW magnet electric motor and 1.49 kWh lithium-ion battery for a total power output of about 226 horsepower. The hybrid plugin has a 66.9 kW electric motor with a 13.8 kWh battery. All hybrid trims come standard with front-wheel drive with all-wheel drive as an available option. The hybrid plugin is strictly all-wheel drive. One hopeful change for 2024 is the fuel efficiency rating for the hybrid trims. Currently, the front-wheel-drive hybrid gets a combined 43 mpg, while the all-wheel drive achieves a combined 38 mpg.
Innovative Safety and Security Features
When it comes to the 2024 Kia Sportage, safety is a top priority. Kia equips this crossover SUV with a range of innovative safety and security features that you can be confident in. The available forward collision warning system with pedestrian detection uses sensors to monitor the road ahead, alerting you if it detects a potential collision. Other features such as lane departure warning and blind-spot monitoring keep you aware of your surroundings and help you stay in your lane on the road.
The Sportage also incorporates advanced driver-assistance technologies. The available adaptive cruise control system adjusts your speed to maintain a safe distance from the vehicle in front of you so you can relax on long highway drives more comfortably and safely. In addition, the rearview camera comes standard on most trim levels and gives you a clear view of what's behind you.
Looking For Your Next Crossover SUV?
The 2024 Sportage is ideal if you're looking for a crossover SUV. With gas and hybrid options, you're sure to find the model that suits your preferences and lifestyle. From its sleek exterior design to its spacious and stylish interior, the Sportage provides an elevated driving experience. If you're ready to experience the 2024 Kia Sportage, contact the team at Huffines Kia McKinney. Browse our large selection of new models or our used vehicle inventory, then schedule a test drive so you can discover why the Sportage is a standout choice against competitors in its class.